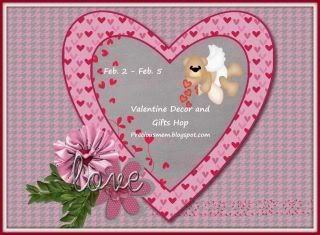 Hi and welcome to the Valentine's Décor and Gifts Blog Hop.
If you happened here by chance you're in luck! There will be 20 stops full of great ideas, so grab a beverage and head over to the hostess' blog. Staci's blog is at
http://preciousmem.blogspot.com/
. The sponsor for this hop is Designs on Cloud 9 at
http://designsoncloud9.com/
and she has offered us a $20 gift voucher for the GRAND prize. Head over to her Facebook page at
https://www.facebook.com/pages/Designs-on-Cloud-9/189551027737837
and show her some love. One lucky person who comments on this hop will be the winner of this generous prize. (One person from each stop will be chosen at random and we will then hold a random draw with those 20 people and one lucky person will win the grand prize).

We were asked to create a Valentine Decoration for this hop. I love Valentine's Day and love to make new decorations for my home with my daughter.
I used my imagine to make this. I used the stock designs on the Imagine to create this lovely banner. This is my first banner that I have made and can't wait to get started on making another one.. I also used my Winnie the Pooh Fonts Cartridge for the letters.

The Hearts are cut out and 5" and 4 1/2"
Letters were cut at 3"
the scallop circle is a stock design from the Imagine too and they were cut at 4" and the circle was cut at 3 3/4"



Thank you for stopping and hop on over to the next blog and see whatelese everyone has come up with ... Some very talented crafters... Happy Hopping!
Happy Crafting Everyone.. God Bless