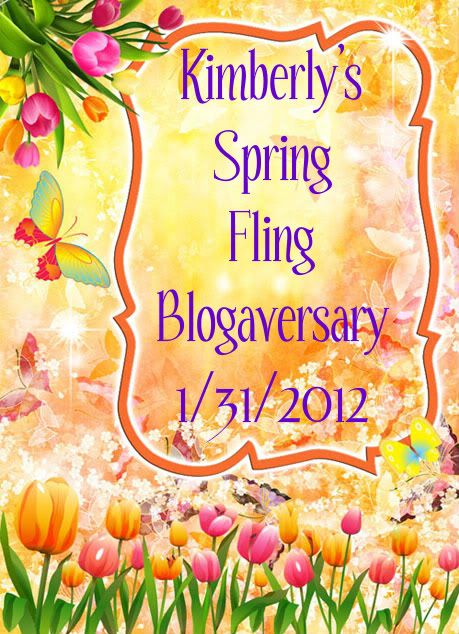 Welcome to Kimberly's Blogaversary. I'm tired of Winter and thought it was time for a "Spring Fling"!!!. All she asked for the crafters was to do something that reflects birth which is what spring means to me in pastel and floral colors!
We have a wonderful group of sponsors that want to have "Spring" Too..... I would ask that each of you take the time to stop and visit each one of the sponsors. They have graciously donated their talent for this hop.
1. Creative Kut ~ $10 Gift Certificate ~ http://www.creativekuts.com
2.
KaDoodle Bug Designs ~ $20 Gift Certificate ~ http://www.kadoodlebugdesigns.com
3. Mickie's CTMH Scrap Corner ~ a CTMH paper pack and some stamping goodies ~ www.littlescrapcorner.blogspot.com
4. Lucy Kelleher ~ Close To My Heart ~ December Stamp of the Month ~ http://love2createitall.blogspot
5. Nikki Schiltz Calmes ~ Paper Piecings by Nikki ~ $25 credit to Paper Piecings by Nikki ~ www.paperpiecingsbyNikki.com
6. Scraptastical Kreations ~ $20 Gift Certificate ~ http://scraptasticalkreations.com
There are a lot great gardeners along the path, so this hop is two days, so sit back, relax and take your time browsing each garden. To be eligible for the blog candy, you must follow Kimberly's blog. Other bloggers may have additional requirements if they offer individual blog candy.
Our Wonderful line up is:
Mickie Osmon << COME FROM>>
Audrey Dickinson << YOU ARE HERE>>
Tiffany Grant - Simmons << YOUR NEXT STOP>>
I don't want you to miss a single spring project and want you to start at the beginning of the Spring at Kimberly (http://scrappingrookie.blogspot.com )
I can hardly believe I have been blogging and showcasing my crafts for a year now!!! I've grown just like spring and learned so much as I have traveled the crafting path. I am sure you will be as impressed with the talent from these crafters as I am.
Here is my project. It is a Magnet Board.
I cut the metal (roofing metal) at 5x7 and a piece of card stock at 5x7. I used Mod to adhere it to the metal. I used some of the flowers that I bought in a tin to make the magnets. I bought some of those metal clip buttons. I used glue dots to adhere the flowers. I punched holes in the top of the board to put the ribbon for hanging. I sanded the edges so there wouldn't be any sharp edges on it all the way around.
I thought this would something that my teenage daughter could hang in her room.
You can make them smaller and had some of those adhesive squares on them and they can hang them up in their lockers at school too.. so many different ideas to them...
Hope you enjoyed my project
Thank you for stopping by and remember "Think Spring" and have that "Spring Fling"!!
Your next stop along the way on the Garden Path is
Tiffany Grant-Simmons ~ http://angel4ever-thecraftyteacher.blogspot.com
Sunshine, Raindrop, and Rainbows and Flowers
Audrey Dickinson
(Scrappy EMT)